Last Updated on January 5, 2023 by itsubuntu
Best Home Theater Power Managers And Conditioners In 2023
Electronic devices are always at risk of getting damaged due to various technical reasons like electrical fluctuations, high power outages, lightning surges, and other power-related issues. Like other electronic devices, Home theaters need some care and protection from technical glitches.
Today, we will talk about some of the best power managers and conditioners for home theater in 2023.  It is not compulsory to use them but if you use them Home Theater will have a much longer time.
Best Home Theater Power Managers And Conditioners In 2023
Best Budget Home Theater Power Manager In 2023:
1. Panamax MR4000 8-Outlet Home Theater Power Management
If you are looking for a budget solution for the Home theater power management system then Panamax MR4000 should be on your list. It supports automatic voltage monitoring with protect or disconnect technology.
Features:
$5, 000, 000 limited lifetime connected equipment protection policy

Connector type: Power Plug

15 Amp built-in Circuit Breaker
8 power outlets (7 rear panel outlets and one front panel)  and uses exclusive automatic voltage monitoring technology
Panamax level 2 noise filtration
Panamax MR4000 will cost you $140 (offer).
2. Panamax M8-AV-PRO Hi-Definition 8 Outlet Surge Protector
If you are looking for a portable power manager then Panamax M8-AV-PRO Hi-Definition 8 outlet surge protector can be your best choice. M8-AV-PRO can be used as rack-mounted or wall mounted. Like Panamax MR4000, Panamax M8-AV-PRO also uses AVM technology as well as protect or disconnect technology. It also uses premium filtration to provide filtered power & protects equipment from other electrical surges such as those that travel over, antenna lines, cable, and phone lines.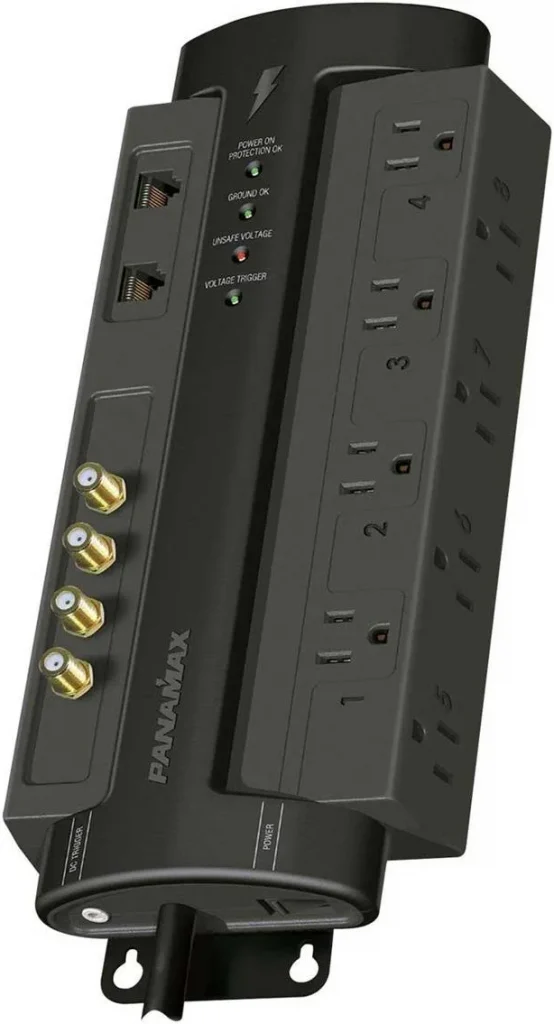 Features:
Premium Filtration
Coax/Sat Protection
Has 8 outlets for AC power available
12-volt trigger allows source equipment to activate or deactivate four of eight outlets
Protect/disconnect circuitry completely disconnects AC power to connected equipment in the event of a catastrophic surge such as lightning
Surge Protection
Protects equipment against prolonged over/under voltages by disconnecting the power and reconnecting it when safe power returns
Panamax M8-AV-Pro will cost you $114,
3. Panamax MR4300 Power Line Conditioner and Surge Protector
Featured with Protect or Disconnect technology, Panamax MR43000 is another best home theatre power manager and conditioners in 2023.
Features:
9 protected and filtered outlets
Automatic voltage monitoring (AVM)
Protect or Disconnect technology
Panamax level 3 noise filtration.
$5, 000, 000 Limited Lifetime connected equipment protection policy; lifetime product warranty
Panamax MR4300 will cost you $198 (offer).
4. Furman M-8X2 Merit Series 8 Outlet Power Conditioner and Surge Protector
Budget-friendly power conditioner Furman M-8X2 has 9 outlets and it has the standard level RFI/ EMI filtration that lowers the noise floor.
Features:
15 amp rating with circuit breaker and "Protection OK" Front Panel Indicator to let you know that your equipment is being protected
9 Total outlets: 8 rear panel outlets (including 3 with "wall wart" spacing) and 1 front panel convenience outlet
Filtration rating greater than 23 dB, 200 kHz to 10 Mhz.
Furman M-8X2 will cost you $74.4.
5. Furman PL-8C 15 Amp, Advanced Level Power Conditioning
Another power conditioning by Furman in our list is Furman PL-8C 15 Amp.  The Furman PL-8C has 9 AC power outlets and There are 2 retractable front-panel LED lamps to illuminate. Furman PL-8C is featured with the SMP technology, i.e., Series Multi-Stage Protection. SMP captures uncontrollable incoming line voltage and converts it to heat, resulting in damage control.
Features:
9 Outlets total outlets with Dual Retractable LED Lights
Isolated outlet banks minimize inter-component interference and noise contamination.
Furman PL-8C 15 Amp will cost you $209 ( Offer)