Last Updated on January 19, 2023 by itsubuntu
Insight: Useful Best Linux Data Recovery Tools For 2023
There is nothing much more painful than losing our precious data. Gone is gone but at least we can try to recover it with some of the effective and best Linux data recovery tools available on the internet.
Let's check out the list of best Linux data recovery tools for 2023
Useful Best Linux Data Recovery Tools For 2023
1. System Rescue CD:
SystemRescueCd is a Linux system rescue disk. It is available as a bootable CD-ROM or USB stick. It comes with a lot of Linux system utilities such as GParted, fsarchiver, filesystem tools, and basic tools (editors, midnight commander, network tools). The kernel supports all important file systems (ext3/ext4, xfs, btrfs, reiserfs, jfs, vfat, ntfs), as well as network filesystems such as Samba and NFS.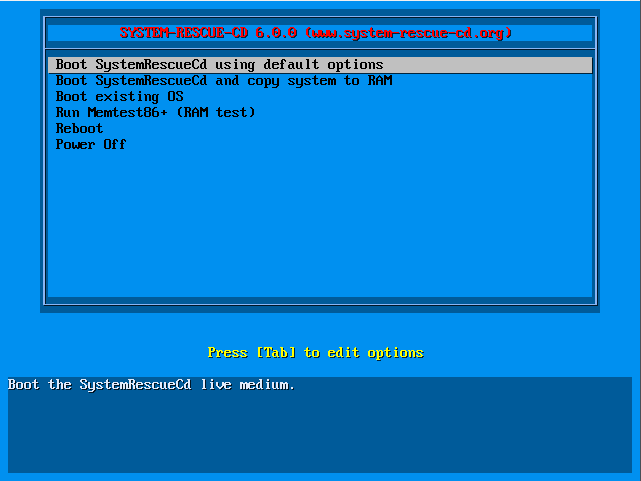 2. Ddrescue Data Recovery Tool
Ddrescue is a GNU data recovery tool that copies data from one file or block device (hard disc, cdrom, etc) to another, trying to rescue the good parts first in case of reading errors. It manipulates ddrescue mapfiles, shows mapfile contents, converts mapfiles to/from other formats, compares mapfiles, tests rescue status, and can delete a mapfile if the rescue is done.
The basic operation of ddrescue is fully automatic. That is, you don't have to wait for an error, stop the program, restart it from a new position, etc.
3. TestDisk
TestDisk is a free data recovery software that can be used to recover lost partitions and/or make non-booting disks bootable again. TestDisk can fix partition table, recover deleted partition, Recover FAT32 boot sector from its backup, Rebuild FAT12/FAT16/FAT32 boot sector, Fix FAT tables, Locate ext2/ext3/ext4 Backup SuperBlock , Undelete files from FAT, exFAT, NTFS, and ext2 filesystem, Copy files from deleted FAT, exFAT, NTFS, and ext2/ext3/ext4 partitions and many more.
4. PhotoRec
PhotoRec is a file data recovery tool. It helps you to recover lost files including video, documents, and archives from hard disks, CD-ROMs, and lost pictures from digital camera memory. PhotoRec ignores the file system and goes after the underlying data, so it will still work even if your media's file system has been severely damaged or reformatted.
5. Foremost
Foremost is a console program to recover files based on their headers, footers, and internal data structures. This process is commonly referred to as data carving. Foremost can work on image files, such as those generated by dd, Safeback, Encase, etc, or directly on a drive. The headers and footers can be specified by a configuration file or you can use command line switches to specify built-in file types. These built-in types look at the data structures of a given file format allowing for a more reliable and faster recovery.
6. Mondo Rescue
Mondo Rescue is a GPL disaster recovery solution. It supports Linux (i386, x86_64, ia64) and FreeBSD (i386). It's packaged for multiple distributions (Fedora, RHEL, openSuSE, SLES, Mandriva, Mageia, Debian, Ubuntu, Gentoo).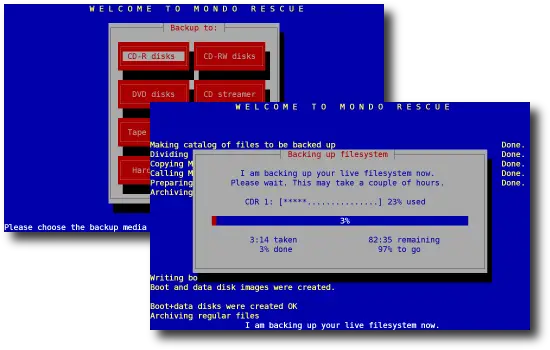 It supports tapes, disks, network, and CD/DVD as backup media, multiple filesystems, LVM, software and hardware Raid, BIOS, and UEFI.