Last Updated on September 14, 2021 by admin
We have started new segment in our blog where we will be listing out the best free and premium books from different category. We are starting our first blog on book segment with the list of best Arduino and Raspberry Pi books for beginners in 2021.
List Of Best Raspberry Pi Books For Beginners In 2021
1. Exploring Raspberry Pi: Interfacing to the Real World with Embedded Linux: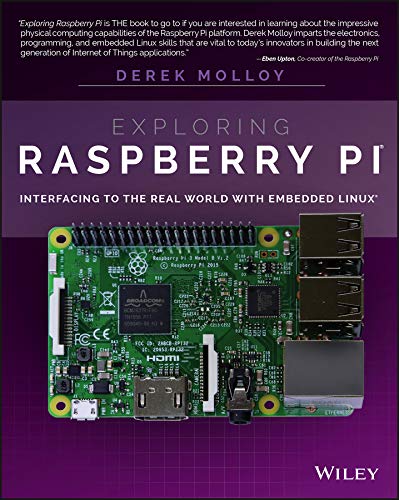 With the help of this book, you can learn the skills you need to design and build your own projects.This book helps you get the fundamental engineering skills you need to incorporate any electronics into any project.
Develop the Linux and programming skills you need to build basic applications
Build your inventory of parts so you can always "make it work"
Understand interfacing, controlling, and communicating with almost any component
Explore advanced applications with video, audio, real-world interactions, and more
2. Creative Projects with Raspberry Pi:
Creative Projects with Raspberry Pi is a practical approached book that helps you to work on the projects. There are 35 projects that has been carefully described in this book from where you can learn and get the ideas about how things work on those projects and start your own with the help of this amazing book.
3. Raspberry Pi: The complete guide to Raspberry Pi for beginners, including projects, tips, tricks, and programming:
This is another fine and useful book for Raspberry Pi users. This is perfect book for the beginner level of Raspberry Pi user as it helps you to get the basic thing like, which model is the right one for you, how to set up your Pi for use, and how to get started on your very first Raspberry Pi project. Not only this, you will also discover the different programming languages that can be used on the Pi, and which ones are best for you to start with.
In this book, You'll Learn About…
What Is The Raspberry Pi?
Raspberry Pi 101
The Different Models
Setting It Up
Coding For The Raspberry Pi
Different Uses Of The Pi
Raspberry Pi Projects
Much, Much More!
Bonus Mention:
Raspberry Pi For Dummies 3rd Edition by Sean McManus and Mike Cook
Programming the Raspberry Pi, Second Edition: Getting Started with Python
Raspberry Pi: The ultimate guide to raspberry pi, including projects, programming tips & tricks, and much more! by Geoff Adams