Insight: How To Upgrade To Linux Kernel 5.0 In Ubuntu
Linux Kernel 5.0 is already out in the market. Latest version of Linux Kernel is loaded with plenty of improvements and features too. Some of the features are:
Improved AMD CPU microcode handling.
Raspberry Pi Touchscreen is supported by the mainline kernel.
AArch64 pointer authentication support.
Updates to the Andes NDS32 CPU architecture.
Support for Adiantum data encryption.
New Intel Stratix 10 FPGA drivers.
Logitech high resolution scrolling support.
AMDKFD compute support for Vega 12 and Polaris 12.
Support for a new VegaM and other new Vega IDs.
Support for ASpeed video engine.
NVIDIA Tegra suspend-and-resume support for the Tegra X2 and Xavier SoCs.
In this tutorial post, We are going to show you the method to upgrade Linux Kernel in Ubuntu and its derivatives.
How To Upgrade To Linux Kernel 5.0 In Ubuntu
This post shows you the way to easily upgrade Linux kernel in Ubuntu, Ubuntu derivatives and also in Linux Mint. One thing that you should aware of risk before upgrading Linux kernel in Ubuntu.
We will use an external Linux upgrading tool Ukuu to upgrade Linux kernel in Ubuntu. Ukuu is also available in paid version too but we will go with free version. According to the developer website, Ukuu should not be used on older Ubuntu systems as upgrading to very new kernels can break older Ubuntu systems.
Run the following commands to install Ukuu in Ubuntu.
sudo add-apt-repository ppa:teejee2008/ppa
sudo apt-get update
sudo apt-get install ukuu
Now, You can easily access and start Ukuu in Ubuntu. It will  fetch the latest kernel for you.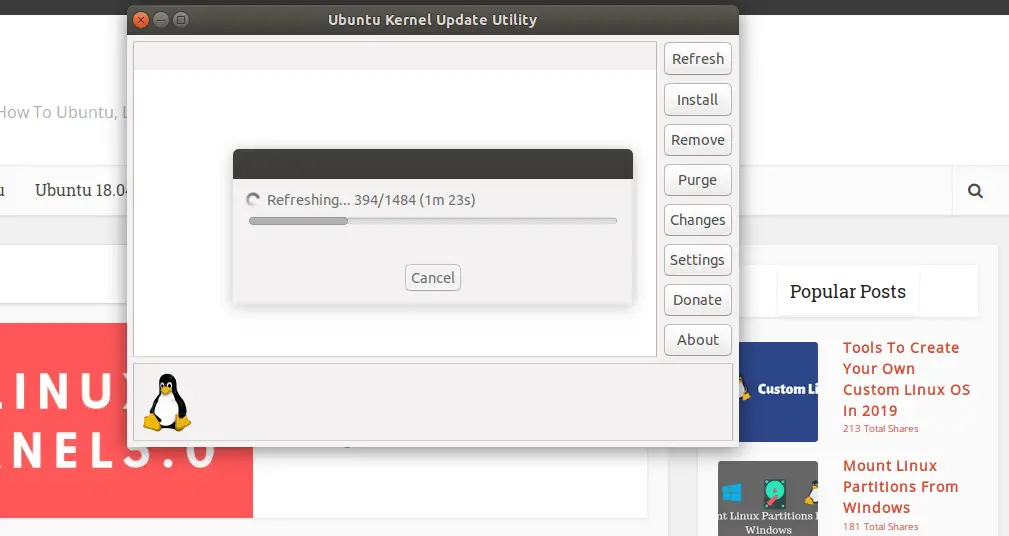 You can see the latest version of Linux Kernel in the list.
How To Remove Linux Kernel In Ubuntu
You can also use this tool to remove the latest version of Kernel installed in your system if you are not happy with it.