Last Updated on January 11, 2023 by itsubuntu
Insight: How to install flat remix gnome theme
Flat Remix is beautiful GNOME theme. It is a simple shell theme. Based on material design methodology, it uses "flat" colors with high contrasts and sharp border.
How To Install Flat Remix Gnome Theme In 2023
There are various way to install the flat remix theme. Let's check out the methods to install theme on ubuntu and other linux distribution.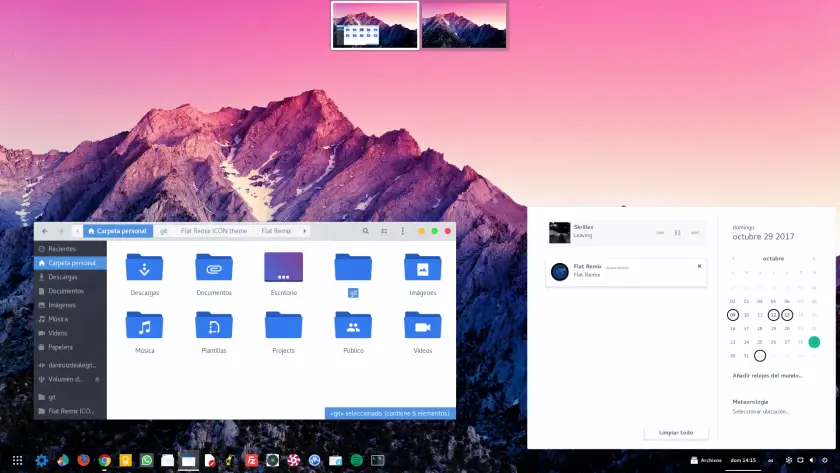 Manual installation instructions
Download and uncompress the zip file.
Download Flat Remix Gnome Theme
Now, Move "Flat Remix" folder to ".themes" in your home directory.
Select "Flat Remix" as shell theme in gnome-tweak-tool ( You need to have gnome tweat tool installed in your system).
Meanwhile, if you want to install it from terminal, please execute the following commands:
cd /tmp && rm -rf flat-remix-gnome-theme &&
git clone https://github.com/daniruiz/flat-remix-gnome &&
mkdir -p ~/.themes && cp -r /tmp/flat-remix-gnome/Flat-Remix* ~/.themes &&
gsettings set org.gnome.shell.extensions.user-theme name "Flat-Remix";
How To Install Flat Remix Theme On Ubuntu
sudo add-apt-repository ppa:daniruiz/flat-remix
sudo apt-get update
sudo apt-get install flat-remix-gnome
Install Flat Remix Theme On Fedora
sudo dnf copr enable daniruiz/flat-remix
sudo dnf install flat-remix-gnome
Install Flat Remix Theme On Arch Based Distributions