Last Updated on March 26, 2022 by admin
What about an idea to reset Ubuntu to the default factory setting to deal with various issues. Sometimes knowingly or unknowingly we have to deal with unstable Ubuntu.  We were forced to reinstall the Ubuntu due to random issues.
Ubuntu 20.04 LTS is the latest stable version of the Ubuntu operating system. Make sure you have the backup of the important files before resetting to Ubuntu stock.
In this tutorial, we will show the method to reset Ubuntu setting to default without reinstalling the Ubuntu again.
At the time of updating this article, Resetter 3.0.0 is the latest version.
Supported Linux operating systems:
Elementary OS 5.0
Deepin OS 15.8, 15.9, 15.10
Debian Gnome 9.6, 9.7, 9.9, 10.0
Debian KDE 10.0
Linux Mint Cinnamon 18.3, 19, 19.1, 19.2
Linux Mint 18.3 Mate
Ubuntu Gnome 18.04, 18.10, 19.04
Ubuntu Unity 16.04
Parrot OS Mate 4.7
Reset Ubuntu Settings To Default Without Reinstalling
There is a tool available that will help us to rest our Ubuntu to the default setting. "Resetter" is a free utility to rest Ubuntu. This utility can reset Linux Mint, Elementary OS, and Derivatives to the factory setting.
How To Reset Ubuntu
STEP 1:
At first download Resetter from the official Github page.  The downloaded file will be in .deb binary.
STEP 2:
Double-click the downloaded binary file and install it in your Ubuntu.
STEP 3:
We assume that at this stage, you have already installed the Resetter in your system. After installation is complete,  type " Resetter" in the terminal to launch Resetter. The program will only work in root mode.
An important thing to remember is that this program only works in root mode. So run it with your root account.
STEP 4:
This utility tool will provide you two options to reset your Ubuntu: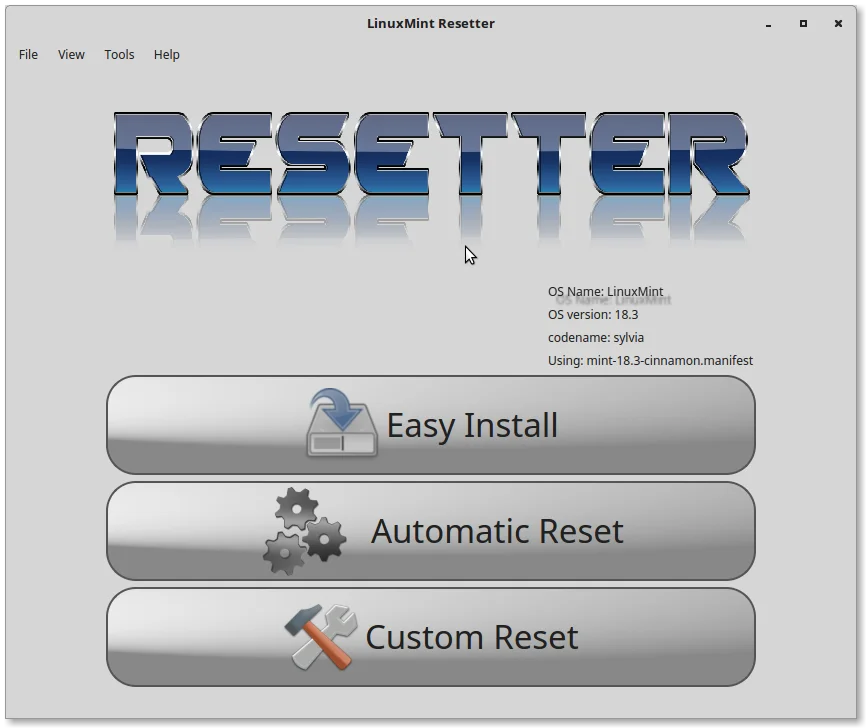 Automatic Reset: This option will reset everything. Even your personal login accounts and home directories.
Custom Reset: As the name suggest, it let you choose options before resetting your Ubuntu operating system.